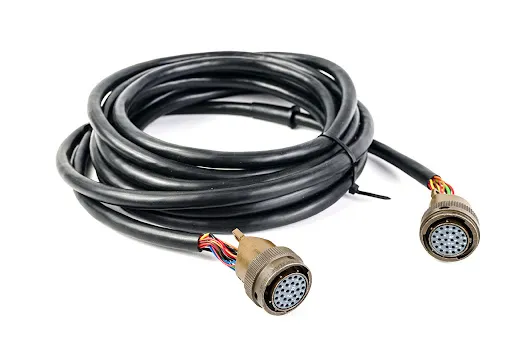 Cable assemblies are wires or cables that have been grouped together into a single unit, usually for transmitting power or informational signals. Assemblies help to organize several cables into an easier to install package, making it easier to replace and maintain.
Cable assemblies can include different cable configurations, as well as a wide range of sizes and colors. They are covered in appropriate shielding for their intended applications and fitted with connectors or socket arrangements.
Cable assembly and wire harnesses both serve similar purposes but offer unique applications and configurations. One of the differences lies in differentiating between wires and cables. A wire is a strand of material that conducts electricity, while a cable is two or more wires that are often bounded or braided together.
WHAT CAN AUSPI DO FOR CABLE ASSEMBLY ?
Wire harnesses bundle cables and wires that are already protected by their own coverings. Cable assemblies, on the other hand, are made for more heavy-duty applications and are covered in intensive exterior product. They are designed to shield the interior wires and cables from heat, friction, moisture, abrasion, compression, and other hazards.
Wire harnesses are smaller in size and weight, making them naturally more flexible than cable assemblies. This makes them great for situations with limited space or transmitting signals over short distances. They can only be used indoors, however, because they are less durable.
Auspi has extensive cable assembly and wire harness experience including specially armored IP68 cables for extremely harsh environments. From our headquarters in Irvine, CA our expert staff can create any cable assembly or wire harness that meets your needs.
Auspi has worldwide support center, we have great work with them, and they will be our long-term supplier, I would definitely recommend
I would like to express my gratitude to Auspi for their work, all orders are always completed quickly and with a proper level of feedback! It is very pleasant to work with such professionals, we will continue to order from you guys, you are the best.
We have a great Partnership with Auspi, they are fast response, most reliable, Most importantly, we are in business relationship for decades now.
With over 19 years of experience, Auspi has been one of the most successful in satisfying our clients across industries. With facilities in both Europe and Asia, we can satisfy both your geographical and cost requirements. And we always tread a fine line between the quality and the cost. We strive to make every penny of yours counts for the quality! Also, in today's constantly changing and competitive environment of the electronics industry, there are always news products & services coming in to the market. We make ourselves constantly competitive by extending our service offerings for our clients, out most valuable partners!
Quality, Service and Expertise
Prototype to Mass Production
World Wide Service Network.